RNIB CONNECT RADIO INTERVIEW BELOW
As a small charity unfortunately, it is with deep regret that we have to announce as from the 1st March 2023 due to ever increasing core costs is substantial increase to ground rent plus increase to gas bottles etc. Our tariffs will increase from a mere £200 low season to £250 and high season from £250 to £300. I am sure you will agree that this is still a colossal subsidy for our beneficiaries, family and Carers. Nevertheless, we will still be offering a number of free means tested breaks to our client group living on a limited and fixed income of benefits due to their disability.
Kind regards
Nigel Garry (Volunteer Chairman)
Your change can make a real difference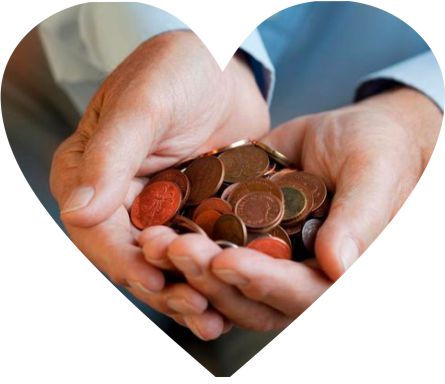 CLICK LINK BELOW TO DONATE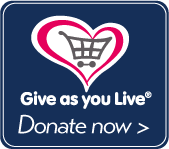 No one within our organisation is waged. We are run entirely by dedicated volunteers. All money raised goes towards the purchase and adaptations to our two fully adapted and accessible static caravans and any administrative cost. We have recently gained registered charitable status Reg. Charity No. 1171132 and we are proud to have gained this after much hard work to get it. To this end we aim to ensure all activities and representation of the charity is totally transparent and 100% genuine.
We are proud of how far the charity has come so far and truly appreciate all the invaluable help and support we have received. Recently our chairman Mr Nigel Gary was nominated by one of our visually impaired beneficiaries as GMS Charity Champion. Here's the interview on BBC Radio 2 on the Good Morning Sunday show hosted by Rev Kate Bottley & Radzi Chinyanganya.
Click Image to listen to the recent BBC 2 Interview >>>>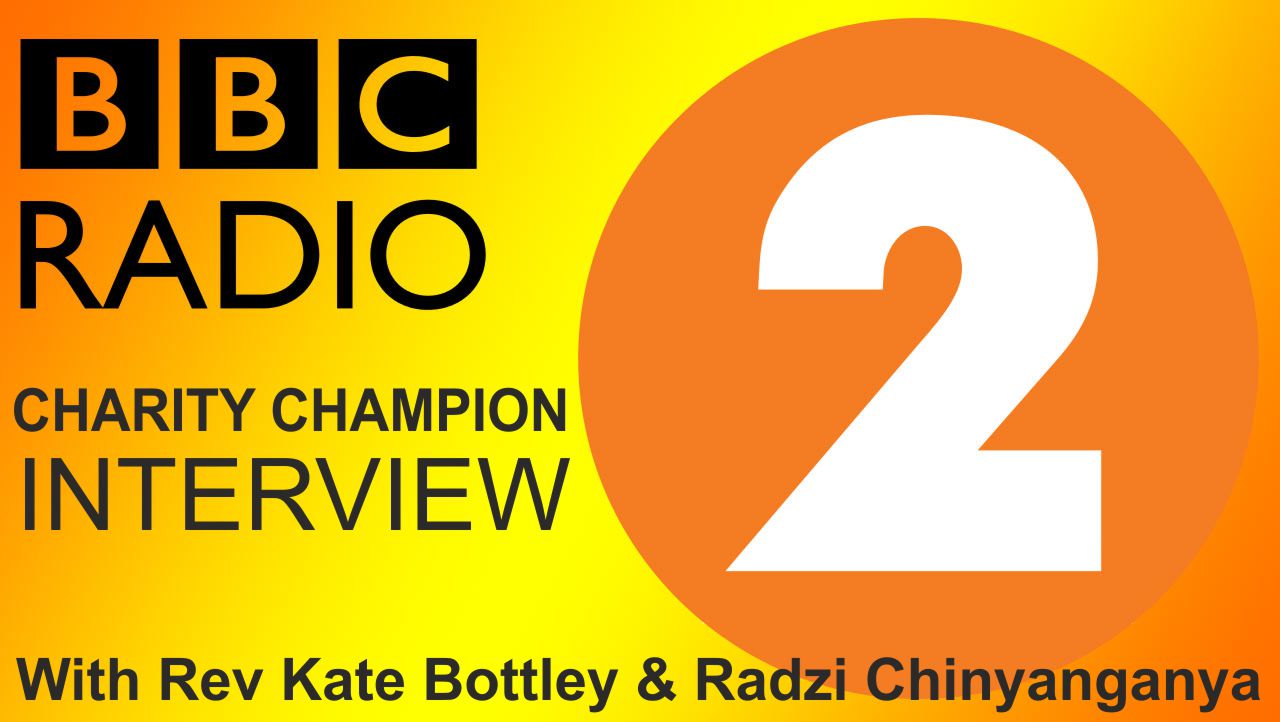 our mission
What others Say...
We have just returned from a weeks amazing stay at the fully Accessible and adapted static caravan owned by the fantastic Charity North Wales Accessible Holidays for Blind and Visually Impaired at Lyons Robin Hood Holiday Park on the Coast Road Rhyl.

The caravan was spotlessly clean and well laid out making it easy to find your way around and take full advantage of the equipment provided. This led to being able to fully relax and enjoy our time on holiday.

The outside decked area with it's gate at the bottom meant that my Wife's guide dog was able to enjoy the outside without the fear of him going missing and despite the weather also allowed him to get in some sunbathing as it is perfectly placed to catch the sun even though it was March. This will be a great space for families to enjoy as the Summer rolls in.

There is an old saying nothing is perfect but this caravan is pretty close.

The site is situated on the coast road making both Prestatyn and Rhyl within short distance. The site has plenty of amenities but there is also local shops and takeaways a short distance away that offer value for money.

We found the staff to be very friendly and helpful especially in the swimming area.

Karen and Nigel are the friendliest of people you could ever wish to meet they made it easy for us to be able to contact them if any issues arose, which they didn't.




Beverley, John + Guide Dog Leon






We can not thank Nigel and Karen enough for all their hard work, we arrived at the holiday home to a warm welcome and we got shown around the home.
We got shown all the wonderful adjustments from the raised markers on the ramp up to find the door, inside we got shown all things from talking clocks, talking microwave, lighting, how to use various things. In the cupboard under the television is a great selection of games. It was lovely being able to play Scrabble and Dominoes ( Thanks for telling Benjamin how to win Karen ).
What was most important, being severely sight impaired is that I could have my independence and cook and get around with ease, the holiday home is laid out for easy access without things in your way that you could bump into or trip over, to be able to cook and use the microwave at ease all makes the experience so much more enjoyable. This allows all of us to have a holiday rather than having to rely on my wife or son to always help.
It has been a brilliant family holiday and having these touches have really been thought through. North Wales is a magical place to go from Snowdonia ( Zip Wire Worlds, the toboggan is a real must) to exploring the wonderful castles, zoos and miles of golden coast line. To hear our nine year old say this was his best holiday ever, as it was able to give his Dad a lot of independence. We can not wait to come back next year.
I had a fantastic holiday with my family x We stayed in a holiday home x In Preststyn Wales Lido Holiday park Our home it was Beautiful and cosy everything you need washing machine, Talking microwave x lovely cooker everything was catered for Me I'm severely blind so it made things easy less stress and my family loved the home straight away the bedrooms had lots of storage and beds were comfy Two bathrooms so clean and plenty of storage heating has well and the lounge has a fire place comfy seating which one settee turns into a bed x Wi-Fi lovely space outside to eat and sit great views. Also iron and hairdryer they leave toilet rolls and washing liquid. Outside the holiday park plenty to do Swimming , Play area Leisure centre called Nova Park amusement centre Arcade Clean beach x Plenty of shops if you like shopping and a shuttle bus to go onto other holiday parks. Me and my family where lucky to visit the American circus my family loved xx Thank you Karen and Nigel for what you have do and all the hard work you have put into the charity x Given me and my family a fantastic Holiday can't wait to visit again.
Toni's & Michael Dudley and Family (from Blackpool)
These two amazing boys who have additional disabilities to their sight loss. They had an amazing time selling lemonade and other items to raise funds for our organisation. They presented us with £61.50 on arrival at our fully adapted and Accessible static caravan.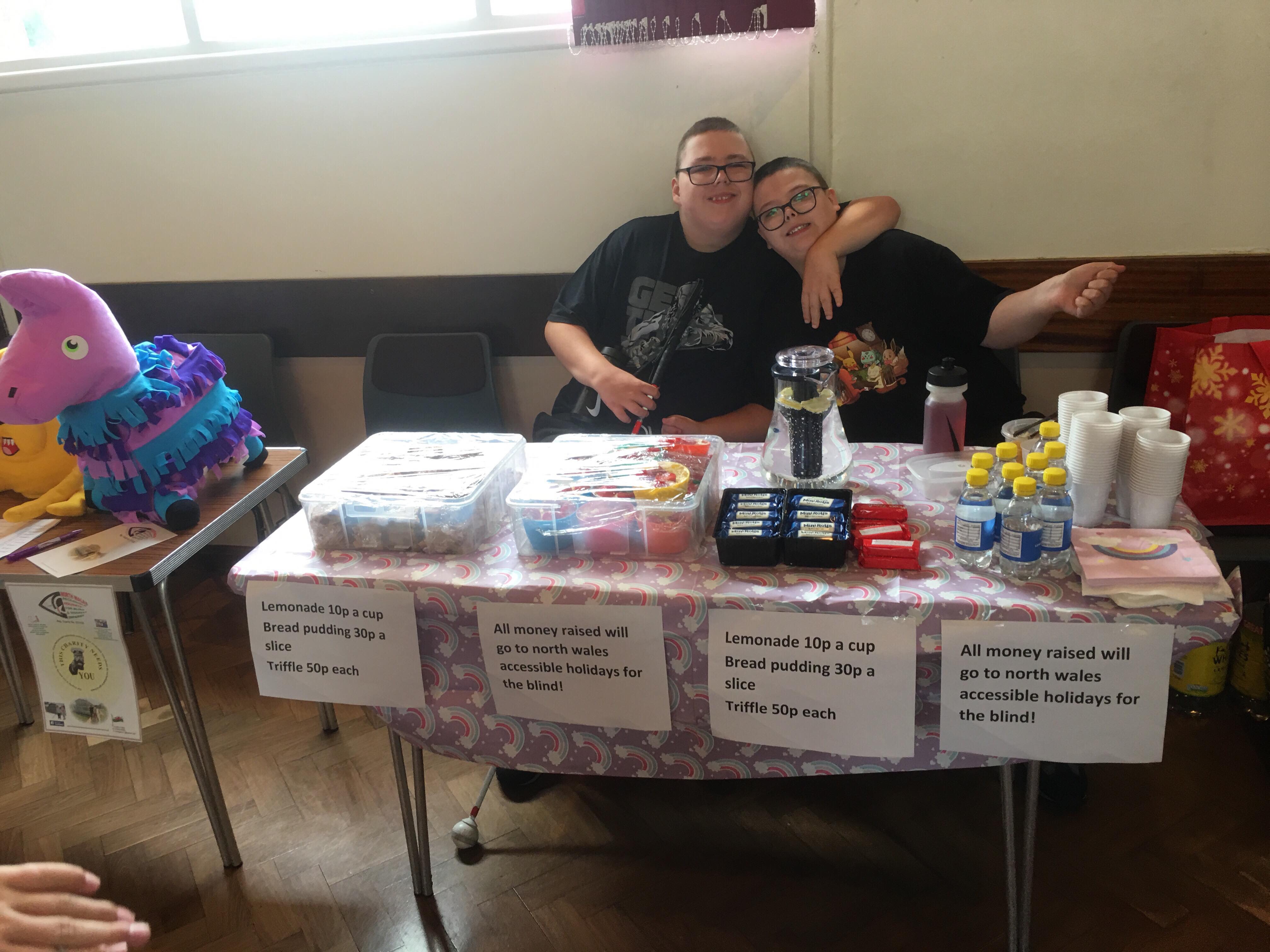 THANK YOU A little word, but one which I want to use impactfully. Thank you to Karen & Nigel, two of the nicest, kindest and most thoughtful people I have had the pleasure to come across. Their dedication to this project and charity is amazing, what they have achieved for the VI and Blind community to enjoy is remarkable. We have just had the most wonderful week at Lido Beach, in a beautiful, well set up and spotlessly clean caravan with so much thought having gone into the needs of all users of this facility. NOTHING is too much trouble for this delightful couple, and we have loved every minute of our much needed vacation. After 21 weeks of self isolation due to our daughters vulnerability, to be able to enjoy the freedom of the seaside and this fabulous accommodation was truly uplifting and much needed by us all. we have come back, recharged, re connected and ready to face whatever is thrown at us again with renewed vim and vigour. we have walked, talked, read books, relaxed, eaten ice cream and had family time without the pressures of work and medical commitment - it's been therapeutic and wonderful. Without this weeks break, this summer would have Passed as by as a non event, and our beautiful daughters 14th Birthday would most likely have been a closed and dull affair due to everyone's foe - Covid 19. Instead we made new friends, found a fabulous new place to visit and had a thoroughly wonderful time. So thank you to everyone involved in this charity, and especially to Nigel and Karen - you are amazing
Our fabulous holiday with North Wales accessible holidays for blind and visually impaired has sadly just come to an end.
We have stayed a lovely week in the 'Robin hood' caravan. We've loved every, relaxing minute.
Everything has been thought of to make the stay an enjoyable one. From the washing machine and dishwasher to the visually impaired adaptations. Our five year old visually Impaired son has especially loved been able to cook his own meals in the 'talking microwave' and tell us the time with all the talking clocks. The walk way leading up to the caravan with tactile features, has meant he could navigate his way into the caravan independently. Which he's loved doing.
There's so many features to mention that I could write all day. The caravan is spacious and has lovely comfy beds and sofas.
We had the luxury of spending time with the great couple, Nigel and Karen, that run it. What an inspiration they are. They've touched our hearts forever. As I think has wales it's self.
Can't book quick enough for next year.
A massive thank you from the Borowiaks,
Neil, Sian, Eben & Ren xxxxx
Hi Nigel & Karen, Apologies for not contacting sooner - as I was ready to leave a message the second we left, but have had a crazy busy week since getting back and I have only just had time to get the laptop out. I cannot thank you enough for allowing us to stay in your beautiful caravan on Lido Beach Caravan Park. The lovely welcome and tour around the caravan (showing my daughter who is severely sight impaired all the fantastic accessible resources etc that you have put in place), was just for starters. As my 16 year old has a Guide Dog, Honey - it was the 1st proper family holiday for us all since Honey came along 12 months ago. Having already had a few instances to book a couple of nights away with the Guide Dog where they were trying to say dogs are not allowed (even not understanding that its a Guide Dog),
I was dreading booking a week long family holiday...and then we came across your wonderful charity! Honestly it was such a lovely week and a much needed week away, where we did not have to worry about the fact that my daughter had Honey, everything is thought of including dog towels and of course the dedicated spending area. As a family of 5 we used the pull out bed too in the living room and we all had the best nights sleep all week - all the beds are so super comfy and good sizes. It really is the nicest caravan we have ever stopped in, everything is thought of and it is immaculate. We enjoyed playing large print scrabble and that's now been added to the list of what else to buy for her on our return, as its been great for my daughter to try out some accessible resources that she has not had the opportunity to try before that will further develop her independence even more. The very close, direct access to the beach was great too as many times either during the day or in the evening - we would walk down to the beach and then in the evening watch the most beautiful sunsets. I hope we get to come and stop with you again at some point, as it really was one of nicest, relaxing holidays we have had and so accessible for my daughter and her Guide Dog Honey. I cannot thank you again for all your hard work that goes on behind the scenes too, as without all the fundraising etc you and others all do, both these amazing caravans would not available and at such a reduced weekly price, to give families like mine who have someone with vision loss, a holiday where every little thing is thought of. Many Thanks from another very grateful family, Claire Leigh & family, and especially Caitlin & Honey the Guide Dog.

My husband Henry and I were lucky to be able to take advantage of a cancelled week in North Wales Accessible Holidays for Blind and Visually Impaired in Prestatyn. We felt like we were staying in our second home and love visiting north wales. There are so many beautiful locations and interesting places to visit.
We were welcomed to our holiday caravan by Nigel and Karen Garry who work so hard to keep their charity going to help people with blind and visual impairment.
The caravan was welcoming and sparklingly clean, warm and cosy. with beds made up and milk in the fridge. It is so helpful to have so many gadgets like the talking microwave and washing machine to make life more normal for the sigh challenged person.
Nigel and Karen Thank you so much for what you have achieved and continue to do for sight impaired and blind people.
We have already booked a return holiday for next year and look forward to meeting you both
Another beneficiary that found our adapted caravan at Robinhood Holiday Park Rhyl really accessible to meet her and her Fathers needs who both suffer with RP.
Shown on the video is Amelia with her cane, dad Stefan, mum Zoe and Amelia's brother Edison.
Our Story~ Because we care...
Nigel has experienced first-hand what it means to be visually impaired and subsequently 'totally blind. At the age of 19, he became visually impaired following a sudden illness and this led to him becoming permanently blind shortly after this. As a result, Nigel has fought tirelessly ever since to make a better and more pleasant experience for others who have become visually impaired, or blind and give them a little bit of 'respite'. With that, Karen and I saw a big decline in specialists hospitality for the blind. Subsequently on the 1st of November 2016 we applied for charitable status and was awarded status on the 16th of January 2017. On the 15th of March 2017, we were proud to announce that we had reached our colossal target of £85000 ten months ahead of schedule and took ownership of a 14 foot by 42 foot Beaumont Static caravan. Following this we had the challenging task of not only equipping the caravan, but more importantly creating a caravan that will be as fully accessible and adapted with every conceivable piece of equipment to ensure that our beneficiaries and carers receive a safe and comfortable stay to meet their needs.
In addition to this, on the 8th of July 2019, due to demand outstripping supply, our charity was in a financial position to purchase our second acquisition a 12 foot x 40 foot Windemere Static caravan, again endorsing a real need for North Wales Accessible Holidays For Blind And Visually Impaired. This would not of been possible without the compassion and continued support from supermarket store collections, trust funds and volunteers.
It is inevitable there will be an ongoing fundraising programme to enable us as a charity to donate free and subsidised holidays to meet the most needy and deprived part of our client group whether it be children or adults living with sight loss. Our estimated annual running cost to include ground rent, maintenance, cleaning and replacement of invaluable equipment is around £70k. Without your support and continued support, we are fearful for blind and visually impaired people loosing this fabulous facility and their independence.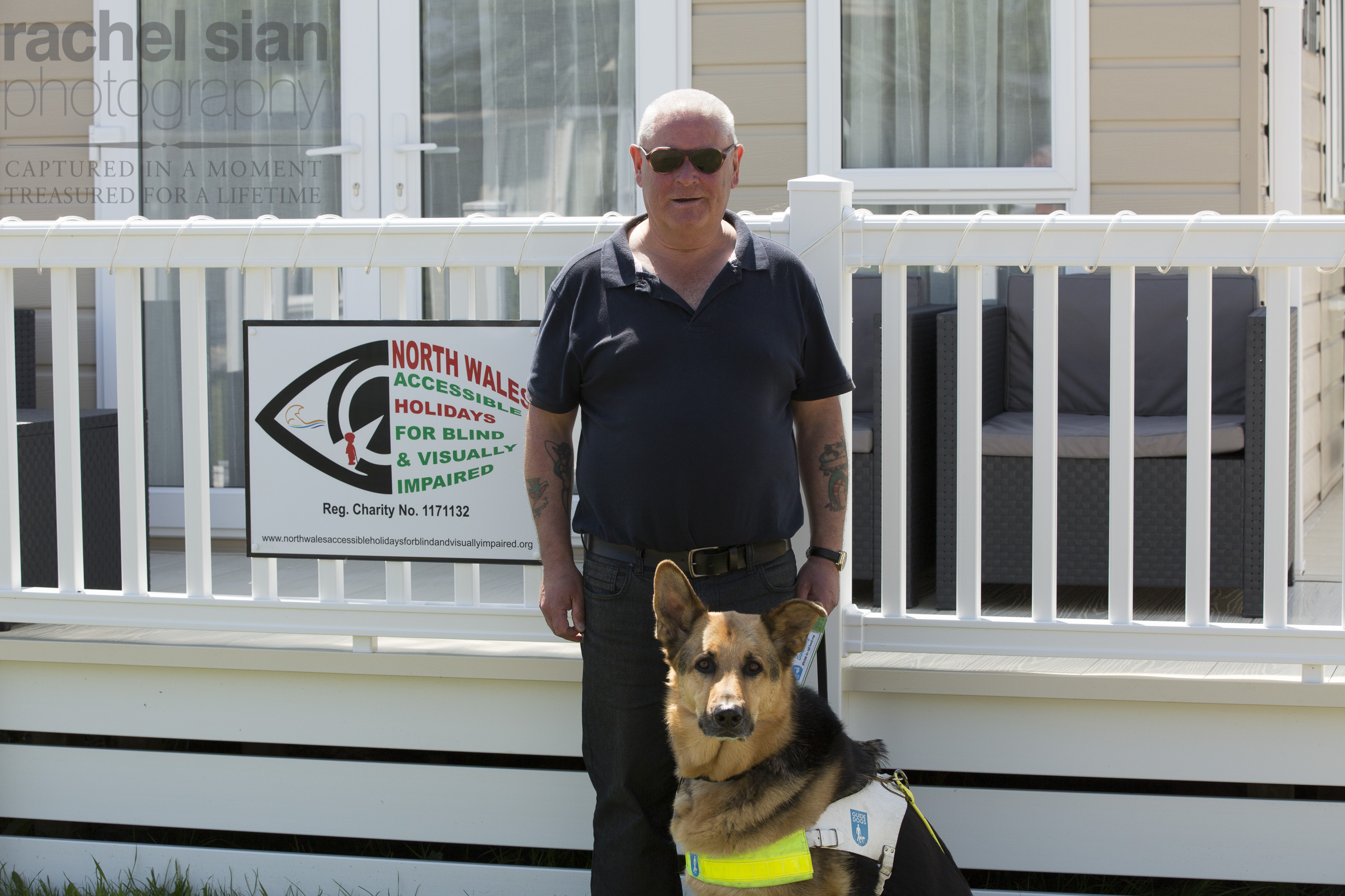 Welcome... We are proud to announce our second caravan is now ready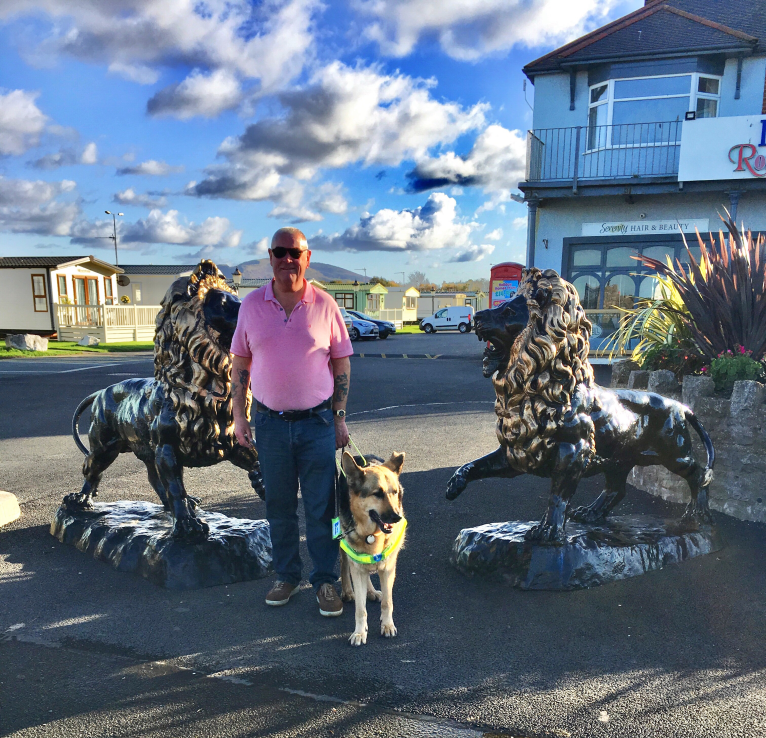 Our second acquisition is based at the Lyons Robin Hood site, Rhyl Coast Road, which has all extra facilities including swimming pool, sauna, gym, onsite gala entertainment, miniature golf and even a shop.
Copyright NORTH WALES ACCESSIBLE HOLIDAYS FOR BLIND AND VISUALLY IMPAIRED